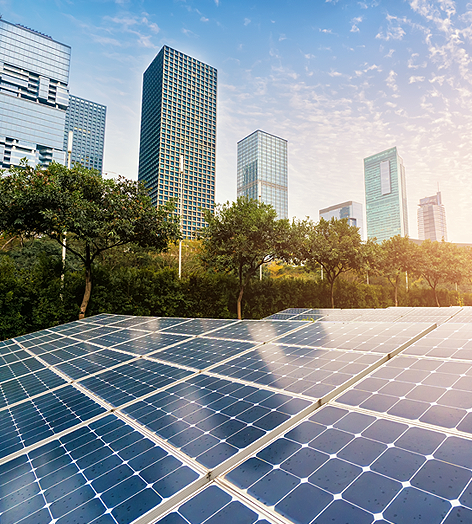 More sustainability and liveability are policy goals of utmost importance for city administrations across Europe and the world. The Sustainable Development Goals (SDGs) are an important guideline in this, in particular but not exclusively, SDG 11, which aims to make cities inclusive, safe, resilient, and sustainable. To meet the targets, we need to reframe and rethink the governance and management of the city, to identify what works and what does not work, and to develop a vision for its buildings, infrastructures and public spaces attuned to its citizens' and local businesses' interests.
Within this context, cities face a formidable challenge to become energy-efficient and energy-flexible with net zero greenhouse gas emissions and active management of an annual local surplus production of renewable energy. This requires interaction and integration between buildings and the regional energy, mobility and ICT system, while supporting social, economic and environmental sustainability. Discipline-specific approaches do not have the adequate capability, scope and scale to solely handle complex societal challenges; however, developing high-impact, cross-disciplinary, cross-sectoral and cross-cultural cooperation has proven challenging to implement.
Since its creation eight years ago, EERA Joint Programme Smart Cities (EERA JPSC) and its Participants have contributed significantly to research and innovation in smart cities – both in the development of fundamental research, innovation and co-creation with city and industry partners, and in showcasing the importance of research and innovation in a field that is more and more prone to high-TRL (Technology Readiness Levels) demonstration projects.
In EERA JP Smart Cities, universities and research institutes from across Europe cooperate with industry, cities and citizens to support innovation and demonstration projects with knowledge-based experimentation, applied and fundamental research, to deliver quality and impact, and to ensure scalability and replicability of locally developed and tested solutions/processes. Building on the experiences from H2020 smart city lighthouse projects, and corresponding national/regional initiatives, EERA JP Smart Cities plays a defining role in the European research and innovation landscape on smart cities, as key drivers towards a climate-neutral Europe and world.
From 2016 to 2018, EERA JPSC contributed to the development of the SET-Plan Action 3.2 Implementation Plan (see Annex 1), as part of the Temporary Working Group. In addition to being part of the core group for writing the document, EERA JPSC contributed with 2 commitments (pages 28-29). In line with the development of an Implementation Working Group led by BMVIT, and management responsibility delegated to JPI UE, EERA JPSC further proposed to develop a R&I Agenda in support of SET-Plan Action 3.2's aim to develop 100 Positive Energy Districts by 2025, with:
A scientifically valid and practically viable methodology (bridging science & practice)
Systemic dimension (technical, spatial, regulatory, innovation, social etc)
Concerted effort (cooperation with other European organisations)
Participatory, practice-based, transformative, fundamental, technical desk and field research
Identify what can be done with better alignment vs need for additional funding